About Us

For more than 10 years, Mid Atlantic Companies, Inc. has provided quality HVAC workmanship and customer satisfaction to numerous businesses and organizations in Hampton Roads, as well as throughout Virginia and North Carolina.

We are known for our expertise, responsiveness and loyalty, which did not happen by accident. From day one, we knew the secret to success was an HVAC company with effective management, homegrown talent, and focus.


Effective Management

Our management is directly involved in the day-to-day operations of the business to ensure quality work, clear communications, and that everyone from the client on down is on the same page.


Homegrown Master Technicians

We knew the best way to grow and maintain outstanding and loyal Master Technicians was to create a workplace where employees could grow by being challenged and by working side-by-side with the best in the business. Our clients benefit greatly from our team's experience and expertise, and appreciate each technician's skilled eye on results and cost control.


Commercial-only Focus
We've found that focusing our HVAC business on only the commercial sector is the best way to use our people and resources to deliver the responsiveness and customer service that has become our trademark. To do otherwise, would dilute our effectiveness. Our services to the commercial, retail, institutional and industrial markets include heating and air conditioning, automation, upgrades, retrofits, sheet metal, as well as design/build for new construction projects.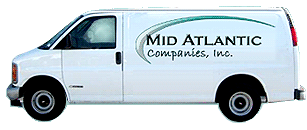 Mid Atlantic Companies is proud of the team and reputation we've built over the last decade by serving some of the top organizations in Hampton Roads such as YMCA, CB Richard Ellis, Virginia Air and Space Museum, Haynes Furniture, Liberty Property Trust, First Potomac Management LLC, Cox Communications, Harvey Lindsay Commercial Real Estate, Continental Properties Corporation, 150 W. Main Street and more.

Feel free to call us at (757) 333-7241 for a no-cost consultation, or fill out this form.
If you have an emergency, please call our 24-Hour Emergency Service at (757) 486-4810.